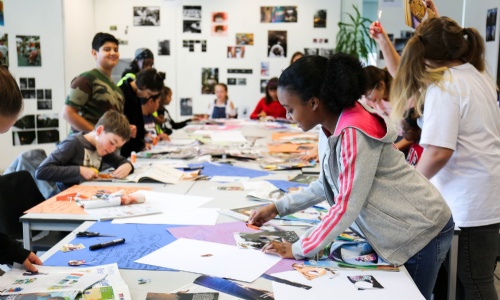 Are you a passionate teacher in the Arts? Well this could be the position for you. BRIT Kids are fee paying performing, creative and media arts classes that run on Saturdays. BRIT kids is part of The BRIT School, a unique free school for the Performing and Creative arts.
We are looking for a BRIT kids at The BRIT School Fashion teacher for this, our flagship venture. The Fashion teacher will be delivering 3 workshops of an hour and a half each. They will be expected to write Schemes of Work overviews and run to the BRIT Kids ethos which celebrates creativity through challenging, bespoke and contemporary teaching.
At BRIT Kids we ask teachers to be creative, contemporary and self-directed. We want teaching at BRIT Kids to be the highlight of their week. We believe that allowing teachers to devise and create their own class content, means that they have ownership over what they are delivering and therefore passion and knowledge to deliver at a high level. Teachers are asked to devise their own projects and write their own schemes of work, with support and guidance, when needed by the Director. The emphasis on contemporary, unique and challenging is important to us. Teachers are encouraged to take risks and step out of their comfort zone. The joy of teaching at BRIT Kids is that although we have high expectations, level descriptors and ask for schemes of work overviews, teachers are not confined by a curriculum.
BRIT kids is rooted in education and offers children the opportunity to explore the creative and performing arts through a safe, welcoming and fun environment. It is through this energy and creativity that the children find a way to build confidence, make new friends and gain a feeling that they belong to something really rather special.
We have one position, 4 1/2 hours of teaching 9.30am - 2pm every Saturday during term time, to start January 2021 (36 weeks per year).
The hourly rate will be £32.81 per hour.
Deadline for application, 9th December .
Practical interviews will be conducted on the 15th December via google meet. Successful candidates will then be asked to an additional verbal interview on the 17th December.
Please note, a fully completed application is required in all cases.
Please follow the link to apply.
Application link; https://www.britkids.org/page/?title=Job+Application+Form&pid=1044
We are committed to the 'safeguarding' of all our students and staff. This means everyone who works here is required to actively protect them from preventable harm. Our recruitment and selection process includes background checks which will be undertaken on the successful applicant, including an enhanced DBS, and in your application you are required to demonstrate how you meet the Group requirements on safeguarding. We are also committed to complying and implementing the Prevent agenda